The BBC iPlayer speed checker was a useful tool for those chasing to see how their connection might perform for video streaming, but alas the tool appears to have been retired and looks set to be replaced by a table showing what speeds different types of iPlayer content will require.
As a general guide for internet speeds I use Speed Test this is a great test for a quick benchmark but lacks a little of the finer details.
Example of Speed Test .NET results
The other speed test which I use for more detailed info is think broadbands flash based test, it provides quite a lot more ino
Example of a think broadband test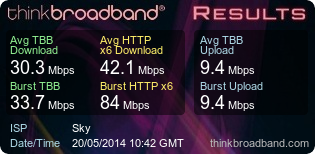 I have provided links to both test websites in the Useful Links section.
Try them both and see the difference.